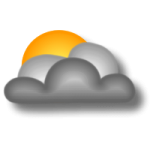 Cloudy or broken
Min: 5/7° C | Max: 10/12° C
Seafront camping in Caorle
Let yourself be mesmerized by the sound of the waves, the smell of the sea, the beauty of the pinewood: in the centre of the ancient fishing village of Caorle - only few chilometers away from Venice - your vacation on the seaside becomes a continuous emotion dipped into nature and overlooking the sea shore.
Discover the camping
Vacation apartments offert in Caorle
Take advantage of the last minute offers of Camping Caorle to live your holiday on a seafront camping in the sign of relax and fun
Camping Caorle, Venice Italy
By staying at the Camping Caorle you will be given the chance to visit the historical centre of the city of Caorle, do nice bike excursions, visit the stunning Venice, taste the typical local cuisine and do much more.
What our guestes say about us
Very nice camping and welcoming staff. Pitches maybe too sandy and mostly sloping. There is the possibility of using electricity and also in a tent if you have the right adapter. Very close to the sea and not far from the center.
I advise
Alessandro P.

The experience of the whole family (numerous) in the two maxi caravans went well; great for children, for the space and the sea nearby. Also great for us adutli, it was restful. The staff is very hospitable and helpful.
We hope to repeat again.
Alba M.

We stopped at this campground with the camper for about 5 days. Ideal for those looking for a bit of tranquility, because even though there are many families with children it is very quiet. Practically seafront, with wide free beach and the possibility to have beach umbrellas and sunbeds. Staff available.
Holiday to be redone
Elena L.

Camping with pick-nick area, bathrooms and showers present and well distributed. Clean and well kept. Honest the price, very nice view, you are on the sand dunes overlooking the sea.
Right price.
Alberto N.

Campeggio speciale su splendide dune. Dalla finestrella del camper puoi veder la stupenda spiaggia dorata e il mare!!! Personale sempre disponibile e super accogliente, molto silenzioso e tranquillo. All'uscita principale sei subito in viale santa margherita che ti porta nello splendido centro storico di Caorle.
Di meglio non si può chiedere!!!
William V. (EN)
Abbiamo viaggiato in roulotte, ci siamo trovati molto bene. Le piazzole sono ben delimitate e ombreggiate! Il pregio più grande per chi viaggia con bambini è che per arrivare alla spiaggia (attrezzata e non) non ci sono strade da attraversare.
... in sostanza ... una vacanza da rifare e soprattutto consigliare!
Giorgia B. (EN)